Ricoh Asia Industry (Shenzhen) Ltd.
Ricoh Asia Industry (Shenzhen) Ltd.


Modeling of standard parts requires little time, reducing design time significantly even for less experienced designers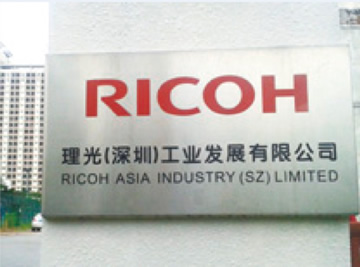 Customer profile
Ricoh Asia Industry (Shenzhen) Ltd. manufactures over 150 types of plastic parts for copy and fax machines, printers, and other peripheral devices.
Conventional design procedures
The design was carried out on NX. Data of standard parts were output from a database or other support tools. Data of a new part was created from scratch. A parts list was created by measuring the CAD model, selecting the part numbers from a paper catalog, and inputting them manually in an MS Excel sheet.
Troubles in the design process
For parts not in the library, modeling was needed. The quality of the model and time required varied, depending on the experience of the designer. A less experienced designer often took longer to create a model of lower quality. Additionally, the selection of the part number of a standard part was time-consuming for all. Any error in the selection of a part number resulted in considerably extra time.
How was the design process changed?
With the introduction of Mold EX-Press, regardless of the designer's skill, modeling standard parts required less time, and the quality has improved. Standard parts can be placed directly on the CAD data, and their mounting hole shapes are created simultaneously, resulting in improved efficiency. The part number list for purchasing is selected automatically by Mold EX-Press, eliminating the errors.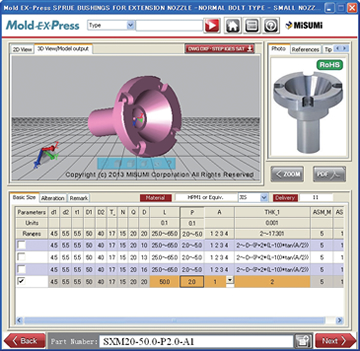 Results of introduction
Due to a reduced workload, a CAD part model could be created 30% to 40% faster even by less experienced designers, and 10% to 20% quicker for experienced designers. Additionally, selecting a part number was 50% to 60% speedier for less experienced designers, and 30% to 40% for those with experience.
Voice of the customer
"Misumi's standard parts have reliable quality and can be procured all over the world. Mold EX-Press facilitates parts selection and increases work efficiency".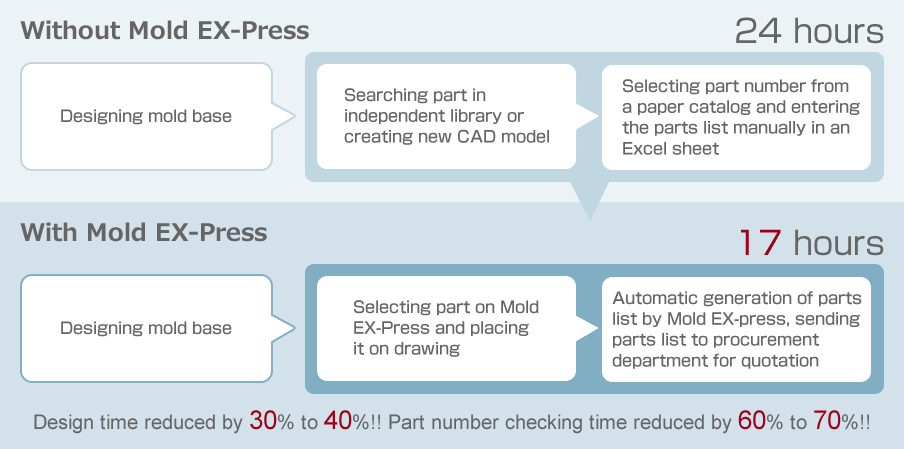 Kindly contact us if you have any inquires.